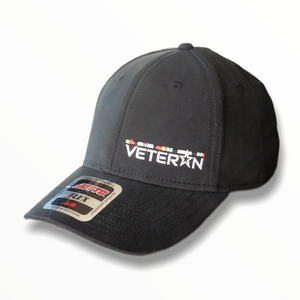 OTTO 6 Panel Low Profile Baseball Cap
97% Cotton 3% Spandex
Brushed stretchable superior cotton twill
Structured and Durable
"VHB" logo badge on back
Firm front panel and flexible fit
Anti-Odor Sweatband
Moisture Absorbent
Designed and Embroidered in Las Vegas, NV by US Army Veterans
Available in S/M [7 - 7 3/8] & L/XL [7 3/8 - 7 3/4]

WARNING

: Pride in service, increased self-esteem, and hat envy may occur when wearing this awesome hat
Wrong size
I bought the smaller size because you were out of my size. The design is awesome and not to gawdy. I do think you should try different hat styles and materials.
What's up Jason!
We are so glad to hear you love our designs! It sounds like you just missed out on getting your size as we had just sold out of the L/XL before you made your purchase - which we are super grateful for by the way. Not to worry though, not only are we restocking soon we have new designs, hat types, colors and material in the works. If you have Instagram you can follow us and get the latest updates or subscribe on our website to receive updates on new products as well as sales and special offers.
We love all our VetHeads and appreciate your support!
SSG Rodriguez
Owner, VetHead Brand